STRANGE ADVENTURES - HOW TO ORDER

The full version of Strange Adventures In Infinite Space is now ABSOLUTELY FREE to download! To do so with no strings attached, click here. All versions are available.

Strange Adventures in Infinite Space is still available on CD-ROM via Paizo for a ridiculously low price. Click here to order. This retail version of Strange Adventures includes snazzy CD art and free extras on the disk.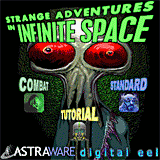 Hot news! Astraware has released Strange Adventures in Infinite Space for Palm OS® 5.0 (and above) high resolution color devices and Windows Mobile™ for Pocket PC. This is a slick version of SAIS, faithful to the original and jam-packed with a nearly endless variety of encounters. It's like carrying an instant space opera around in your pocket! SAIS for Palm & Pocket PC is an interstellar blast-fest unlike anything else out there, so check out the full-featured demos here.
For Mac gamers only! The Mac version of Strange Adventures in Infinite Space is included in the new 3-Pack Boiler Plate Special, an exclusive collection of Mac games recently released by Cheapass Games!
In any case, all major credit cards are accepted.
The SAIS Mac, PC, Palm and Pocket PC demos are available here.


Strange Adventures in Infinite Space - Copyright 2001-2002 R. Carlson, I. Keranen and Phosphorous