DIGITAL EEL'S BIG BOX OF BLOX FULL VERSION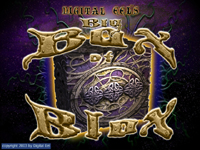 It's true what they say. Digital Eel's Big Box of Blox is now free! No monkey business; no strings attached. And thanks to the miracle of the internet, you can download it right now!

Note: Both the PC version and the Mac version are available.





All content and images copyright 2003 R. Carlson, I. Keränen and Phosphorous